Period of Coming Tour: Aug 25th-Sep 15th, 2020
The collective Video Phase, of which Julien Compagne and Julien-Robert are the founders, offers a meticulous mix of music, video, and technology. Their second creation, entitled "Lumens", marries the organic instrumental with the modernism of the new technologies, and constitutes an impressive interplay between live and preconceived performance. We met the duo at the show's premiere in June at the Society for Arts and Technology (SAT), launching its tour.

The process of creating "Lumens", from conception to the very first official presentation, took place over three years. Video Phase's first show, sharing the title of the duo, retained the intention to merge music and visual into one and the same object. "What has remained in common from one show to another is our guiding idea of giving a visual representation to music, sometimes concrete and sometimes more abstract," explains Julien Compagne.
With "Lumens", the two visionary artists imagined and set up their own multi-screen 3D environment. Equipped with electronic instruments for the creation of certain digital sounds, or simply a huge bowl of water that acts as a receptacle for its aquatic percussions, the duo seeks to transport its audience in a new kind of multimedia performance.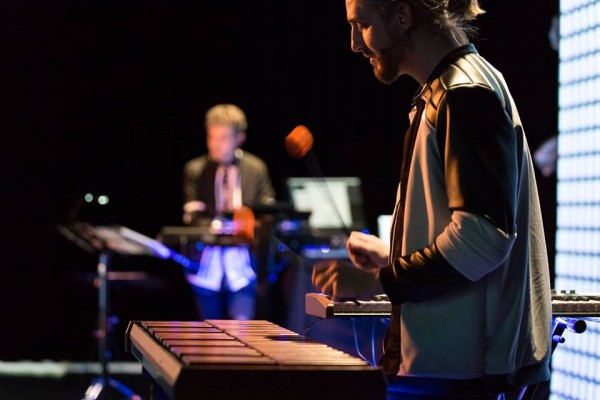 A noteworthy aspect of Video Phase's signature comes from its intention to make its creations accessible through visual processing, offsetting the slightly more specialized music. "Music is one of the most abstract arts because there is no narrative and nothing to see," says Julien-Robert. The addition of a visual really supports the show and allows people to find a point of attachment."
Through the same piece for example, the two creators offer several types of elements that can capture the attention of the viewer, either with the musical processes used or with colourful and futuristic visuals. "This was our intention, because we imagine our shows in a contemplative way. There are several levels of understanding, and that's why it's so inclusive," adds Julien Compagne.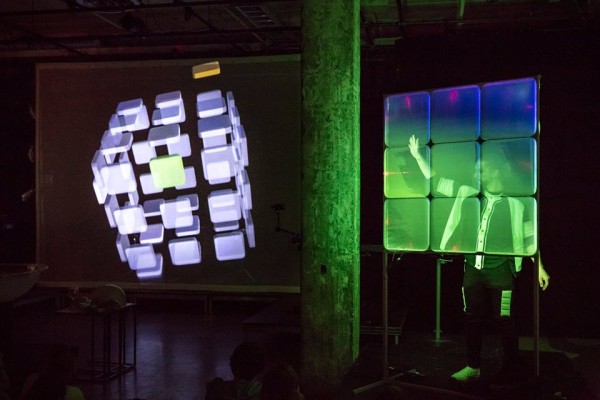 Some will denote the technology and sharp musical processes used on stage while others will simply be carried by the playful aspect of the show that is presented to them. Thus, there is something for publics of any ages and all tastes.
The creators work together and form a complementary duo. Just as conception and overall design are written in four hands, everyone plays a role in the team. Through his training in the programming sector, Julien-Robert mainly develops the technical underpinnings of their show. As for Julien Compagne, multi-instrumentalist percussionist, he focuses on the performative and melodic aspect of "Lumens".
To magnify their project, they rely on a talented core. In particular, they have collaborated with Michel G. Barette for stage production, Nathanaël Lécaudé for electronic design, and Béatrice Ortiz Descloquemant for 3D design.